Jason Mold
Dive Leader / Assistant Instructor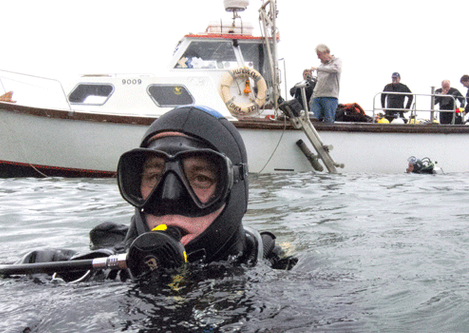 WEST WALES
The club owns 2 RIBs (Rigid Hull Inflatable Boats) and both are based near Milford Haven in West Wales. This gives us quick and easy access to the countless wrecks and dive sites off that coast. The shape of the coastline also means diving is possible somewhere at nearly any state of the wind and tide.
Popular areas with the club are the islands of Skokholm and Skomer and the surrounding marine reserve along with the Castlemartin area and when weather permits, to the amazing Smalls lighthouse some 25nm offshore.
We generally aim to do 2 dives per day off the boats and tend to dive a mixture of wreck, wall and reef depending on weather conditions and requirements of the divers out that day!
We often attempt to do a full weekend diving (Saturdays and Sundays) and if that's the case although there are B&Bs in the area a lot of us tend to camp in the compound where the boats are based - this is cheap and very convenient as the yacht club has showers, changing rooms and a bar all on site.
Depending on the experience level of the divers, this will normally dictate the site and depths chosen for the dive. The depths chosen will vary from nice simple 6mt dives with trainees to 40mt or deeper wrecks such as The Lucy for the more experienced divers.